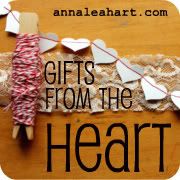 Annalea is hosting me today as part of her series "gifts from the heart".
Go check it out.
There is even a giveaway.
While you are visiting Annalea, hang out and read about her amazingly colorful life. She is super crafty and she even has a potager in her backyard.